Thursday, February 18, 2016 -

1:00pm

to

2:00pm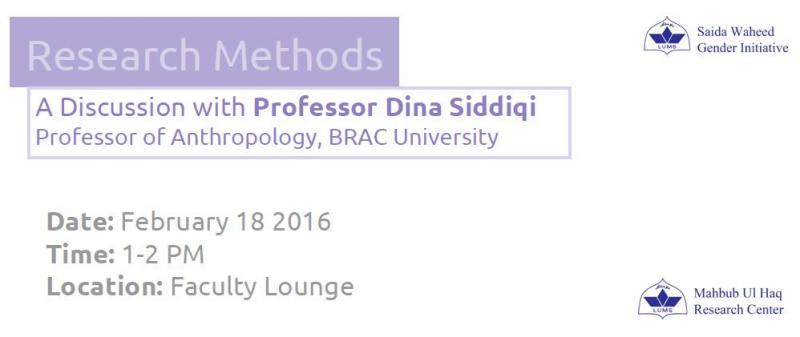 In collaboration with the Mahbub Ul Haq Research Center, the Saida Waheed Gender Initiative is pleased to organize a research methods discussion and workshop for students with Professor Dina Siddiqi.
Date: February 18, 2016
Time: 1-2 PM
Location: Faculty Lounge, VC Wing
About the Speaker
Dina Siddiqi is Professor of Anthropology in the Department of Economics and Social Sciences at BRAC University. Dr. Siddiqi's research engages with issues relating to gender, labor, human rights, and transnational feminisms across South Asia; with a particular focus on Bangladesh, her numerous publications have addressed topics including women in the garment industry, minority rights, and the relationship between religion, politics, and the state. Dr. Siddiqi has previously taught at the University of Pennsylvania, Bryn Mawr, the New School, and Columbia University. She serves on the editorial board of Routledge's Women in Asia Publication Series and is a referee for Modern Asian Studies, Feminist Economics, and Journal of Refugee Studies, among others.